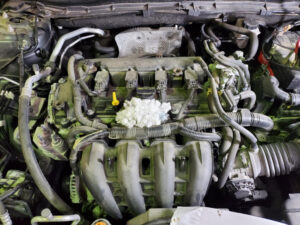 A warm and dry rat nest inside the hood
of a car.
Even rats don't like a lot of rain and seek shelter from the storm. It is always a surprise to look under the hood of a vehicle and  find evidence of rats making a home in your engine  bay. They chew wires, poop all over everything and bring food to their nest to feed their young.
With our Maintenance and Inspection service performed on a regular basis you are know what is going on with your vehicle because our motto is to perform inpsections for safety & maintenace so there are NO surprises. We alternate a in-depth inspection with a basic inspection every six months. We also do brake inspections, suspension inspections, diagnostics, tire rotations and XXX inspections so that you can stay on top of your maintenance and repairs.
See our list of maintenance services under: