Ray and Judith offer you over twenty years of professional experience in maintaining and repairing your vehicle. Whether it is small or large, import or domestic, old or new, we fix them all.
Using the latest diagnostic equipment and tools we understand how your vehicle is running and appreciate how it needs to get you where you want to go.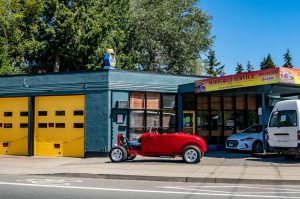 If you're purchasing a used vehicle from outside BC, it's important you complete an out of province inspection. Marigold Service in Victoria is a designated vehicle inspection facility. Privately owned vehicles imported to BC are subject to a one-time out of province inspection to ensure the car or truck is compliant with all Motor Vehicle Act Regulations (MVAR) safety standards.
Your out of province inspection includes:
All operational controls including windshield wipers, pedals, power steering
The body and frame, hitch, bumpers, seats, seat belts
The undercarriage and steering linkage
The exhaust system
Brakes and all associated components
Lighting and electrical including battery, taillights, and headlights
Critical engine, components, and fuel system
Similarly, if you are relocating from another province, your vehicle must complete the out of province inspection before it can be registered and certified in BC. This requirement exists because the safety and registration regulations vary from province to province.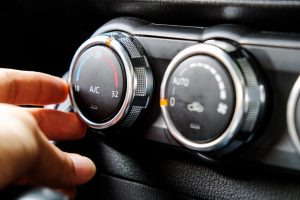 Car AC Repair & Recharge
Is your car AC blowing warm air? Do you hear odd noises when you use your AC? Is there an unusual smell coming from the vents? These are all signs that your car air conditioning system needs attention.
How Does Air Conditioning Work?
Your vehicle's air conditioning system works by manipulating refrigerant between a liquid and a gaseous state. In simpler terms, the car AC condenser turns hot refrigerant gas into a cooled liquid that then passes over the evaporator, which removes the moisture from the now-cooled air, and that cold air is then sent through your vents, into the cabin of your car or truck.
What Can Go Wrong?
Over time, your vehicle's AC system will become less and less efficient. The most common issue with a vehicle's air conditioning system is a refrigerant leak. Usually, the system just needs more refrigerant, often called a "recharge", and you'll be on your way. However, sometimes there can be a problem with a component of the system and a simple recharge just won't cut it. Whether the issue lies with an electrical fault, a bad compressor or clutch, or a worn-out evaporator core, our professionally trained staff will have your vehicle back to its chilly best in no time!
How Can We Help?
Our certified mechanics will do a full inspection of your vehicle's air conditioning system, starting with checking the refrigerant level right through to inspecting, testing, and if needed, repairing all of the components of the system to ensure your vehicle's AC is performing exactly as it should. Contact Marigold Service today and let us help you stay cool all summer long!
Our well-trained automotive technicians are able to do a pre-purchase inspection on your vehicle. Whether you are a buyer or a seller, a pre-purchase inspection can help with negotiations for the sale.
The pre-purchase inspection takes about two hours to perform. We look at every aspect of the vehicle from brakes to steering to tires. After your pre-purchase inspection has been done you will have an intimate knowledge of how your vehicle runs.
We pride ourselve on doing in-depth pre-purchase inspections because we value our customers' time and money. We seek to reduce the stress and costly repairs of purchasing a vehicle.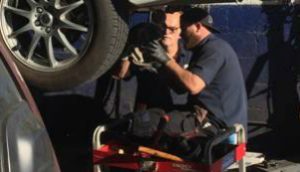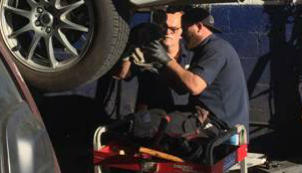 Marigold Service performs vehicle repairs, maintenance and diagnostics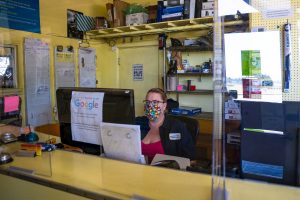 Carbuerator Repair and Service
Brake  Repair and Inspection
Tune-Up and  Vehicle Diagnostic
Electrical Repair and Vehicle Diagnostic
Vehicle Inspection
Clutch Repair and Replacement
Oil Change/Maintenance Services
Comprehensive Inspection and Maintenance
Power Steering Fluid, Flush and Service
Provincial Inspection
Pre-Purchase Inspection
Notice And Order Inspection
Brake Fluid Flush and Service
Cooling System Flush and Service
Transmission Flush and Service
Engine Tune-Up
Fuel Injection Cleaning
Air Conditioning and/or Recharge Service
Winter and Summer Tire Swapping
Wheel Balancing and Tire Rotation
BC Provincial Inspection Facility
NAPA Autocare
1 Year/20,000 KM Warranty on Parts & Labour
Victoria Brake Repair
Your vehicle might be in need of brake repair if you experience the following while braking:
You hear squealing
Your steering wheel vibrates
Your car veers to one side
These signs your vehicle sends you about potential brake issues, are most often caused by worn brake pads or excessive wear on your rotors. Other typical repairs result from uneven brake wear, a fluid leak or a malfunctioning caliper.
When your car gives you these signs, it is time to visit Marigold Service for an inspection. Putting off regular servicing could lead to brake failure and more expensive repairs in the future.
Types of Braking Systems
There are two main types of vehicle braking systems:
Disc brakes: Comprised of a rotor attached to the wheel hub directly, the hydraulic pressure from the master cylinder causes the caliper to squeeze the pads on either side of the rotor, and the resistance caused by this stops the vehicle.
Drum brakes: Comprised of brake shoes inside a drum that are mounted to the wheel hub, the hydraulic pressure in a drum system causes the shoes to press against the drum, stopping the vehicle.
In addition, vehicles have emergency brakes, which bypass your vehicle's hydraulic system and use cables to compress the shoes or pads on your vehicle to 'lock' the rear wheels.  Most vehicles also have ABS, or anti-lock braking systems. ABS works by 'pumping' your brakes repeatedly when the sensor detects wheel locking, which is extremely helpful in slippery conditions.  Rather than holding the pedal down and locking the wheels, which will cause your vehicle to lose traction and steering ability, the ABS will 'pump' the brakes and improve traction, allowing you to retain control.
Marigold Service technicians have extensive experience with all types of braking systems including disc, drum, emergency and anti-lock.
Regular Brake Maintenance
During a brake inspection, our technicians perform the following:
check your brake fluid and moisture levels
ensure your calipers, pins, and sliders are all in working order
check that your rotors are smooth and not worn down unevenly
we'll measure the thickness of your pads
lubricate the moving parts in the system.
If we detect any issues during inspection, we'll explain them to you in detail and provide recommendations for next steps. We suggest having your braking system checked every 6 to 12 months, to ensure your brakes are performing optimally.
Your Victoria Brake Experts
Brakes are one of the most important components of your car or truck, so don't take any chances. We service all makes & models, including right-hand drive, vintage, and high-performance muscle cars.  Whether you require new brake pads, rotors, brake fluid, or just need a quick check-up, bring your vehicle to Marigold Service and let us show you why we're known for our exceptional service.
Victoria Muffler Repairs
Does your vehicle suddenly sound louder than usual? Are you hearing a rattling sound? Does your vehicle smell of exhaust when it's running? If you're experiencing any of these symptoms, your muffler & exhaust system may need servicing.
Common Muffler Issues
The most common symptom you may notice if you have a problem with your muffler is your vehicle will sound louder than usual. This symptom can be caused by a leak in a section of your exhaust system. If the sound of your vehicle has suddenly changed, bring it to the well-trained technicians at Marigold Service for a checkup.
Another sound you could hear that indicates a potential issue with your exhaust system is rattling. This can be caused by a loose muffler or loose exhaust pipes. There are many things that can cause a muffler or exhaust pipe to loosen, including rusted bolts and driving your vehicle over rough terrain. Loosened exhaust pipes are usually a quick fix and the experienced technicians at Marigold Service will have you on your way again.
Silent Muffler Issues
Not all muffler and exhaust system problems will alert you with a sound. Another symptom could include a change in your vehicle's fuel economy. With the increasing price of gas, you will want your vehicle to use its fuel at maximum efficiency. If your vehicle's muffler is damaged, it will no longer be able to expel fumes from your engine effectively, which could impact performance and increase emissions from your vehicle.
The most dangerous and "silent" symptom of a problematic exhaust system is a bad smell inside the cabin of your vehicle. If your muffler is damaged or another part of your exhaust system is leaking, the exhaust fumes which would normally be funneled away from the vehicle can seep into the vehicle instead. If your vehicle suddenly has a bad odour, call Marigold Service for a muffler and exhaust system inspection.
Muffler and Exhaust System Inspections
Whether your vehicle suddenly sounds louder, is shaking and rattling, or if you just want to be sure your muffler and exhaust system are in top shape, contact us today to schedule a check-up. Our friendly technicians will inspect your entire exhaust system and recommend what, if any, action you need to take to keep your vehicle in optimal working condition. Muffler repairs or replacements can usually be completed in a short amount of time, depending on your type of vehicle. Certain exhaust system components under your vehicle can be more difficult to reach and sometimes take a little longer to repair, but our service technicians will advise you as to the length of time we'll need before we begin.
Choosing the Right Muffler for You
A muffler has two functions. First, it reduces or modifies the noise coming from the exhaust ports of your engine, and second, it moves exhaust gases from the engine to the tailpipe. Read more…
When you bring in your vehicle for our maintenance and service check up, not only do we change the oil every 6-8,000 kilometers or four to six months, we perform a comprehensive multi point inspection of every part of your vehicle.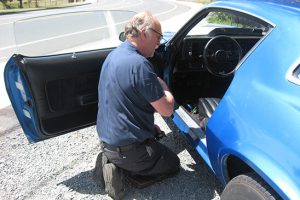 We take off your wheels and inspect your brakes, tires and suspension. We inform you of how much tread is left on your tires and metal left on your brakes. We inspect your fluids to ensure cleanliness and if they need flushes. We look at belts for wear and tear.
We check your light bulbs, including your signal and licence plates lights. We also inspect your window glass for nicks or damage. By the time we have completed our maintenance service, we are friends with your vehicle and can stay on top of any repairs required.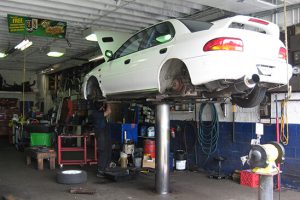 In this fashion, you no longer need to be surprised with large repair bills and instead enjoy a wonderful relationship with your vehicle. When you have your maintenance plan with us and if your vehicle does require extensive work, we can help you to prioritize the repairs so they are not overwhelming.
View Our Vehicle Maintenance Service Plans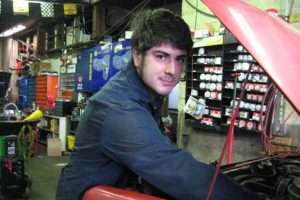 Our Automotive Service Technicians:
Examine, test, repair and maintain the parts and systems of most makes and models of automotive vehicles.

Diagnose and repair steering, braking, suspension and electrical systems.

Perform preventative maintenance including wheel alignments, brake components and engine tune-ups.

Repair carburetors, starters and many other components on older vehicles.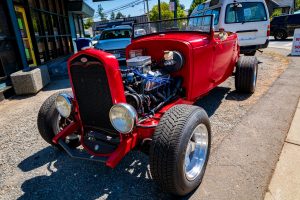 Doing an oil change service can feel like an expensive chore that one tries to do as little as possible, but actually this scheduled service reduces the wear and tear on your vehicle and extends its life.
Our Maintenance Service Plan takes care of your whole car throughout the year. Every 6mos or 5,000klms we inspect various areas of your vehicle as well as change the oil and filter. Due to the fact that we don't always need to do the same inspection over and over again, but need to keep an eye on upcoming repairs to reduce costs to you, we alternate these services.
Here is our maintenance service plans rotating every 6mos or 5,000klms
---
Service #1 The Basic – $115 (incl. up to 6L of regular bulk oil)*
Walk around vehicle and visual inspection of windshield & wipers.
Change engine oil and filter and reset minder (if applicable)
Note any warning lights on dash, road test observations and park brake hold test
Check lights and horn and perform battery condition assessment.
Check all fluids and refill washer fluid if necessary.
Visually inspect drive belts for condition
Inspect power steering/ brake/ transmission fluid (if available)
Visually inspect cooling system
Tire Inspection and Measurement
Visual inspection of Steering & Suspension components
Service #2 The Safety – $205 (incl. up to 6L of regular bulk oil)*
Change engine oil and filter and reset minder (if applicable)
Walk around vehicle and visual inspection of windshield & wipers.
Note any warning lights on dash, road test observations and park brake hold test.
Check lights (interior and exterior), horn and battery terminals.
Check all fluids and refill washer fluid if necessary.
Inspect, Measure and Rotate tires
Inspect Engine Air and Cabin Air Filters (if accessible)
Remove and Inspect Spark Plug (if accessible)
Visually inspect radiator & heater hose condition.
Inspect front and rear differential fluids.
Visually inspect Steering Components
Visually inspect Suspension Components
Inspect front & rear brake pads/shoes/hoses/lines/rotors/calipers/cylinders
Inspect park brake/ cables
Inspect wheel bearing/hub bearings/wheel studs/nuts
Check all manufacturer's recommended service intervals
Inspect A/C controls and motor (f/r) & rear defrost operation
Inspect hood release cable/trunk/fuel cables
Inspect window operation, seat belts, mirrors (f/r).
Visually inspect engine fan/fan clutch/rad fan motor
Visually inspect a/c operation/o rings/components
Visually inspect Exhaust System
*Synthetic Oils, Engine requiring more than 6L and special oil filters will all have additional costs.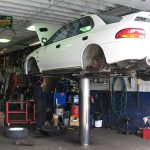 A muffler has two functions. First, it reduces or modifies the noise coming from the exhaust ports of your engine, and second, it moves exhaust gases from the engine to the tailpipe. A muffler may seem like a simple piece of equipment, but a lot goes on in a typical 9-inch by 5-inch muffler casing. Let's take a closer look at the types of mufflers and how they work.
Reactive-style Mufflers
Reactive-style mufflers are very common. They typically direct sound waves (in other words, noisy engine exhaust) through a series of pipes, chambers or reflective plates. Before reflection, the sound waves are powerful and are travelling in the same direction, translating into loud noise. Once these waves are reflected, though, they become disorganized and cancel each other out, much like an ocean wave dissipates after crashing onto a rocky shoreline. After reflection and cancellation, the dampened exhaust noise exits through the tailpipe.
Absorptive Mufflers
Absorptive mufflers are the choice of high-performance car enthusiasts who like an aggressive muffler sound. With absorptive mufflers, exhaust gases travel down a straight tube lined with sound-deadening materials towards the tailpipe. Along the way, turbulence is created as some of the sound waves escape into the perforations that contain the absorptive material, turning sound energy into radiant heat. The result is a somewhat-reduced, throaty rumble that some drivers really enjoy.
Combination Mufflers
As the name suggests, combination mufflers combine absorptive and reflective technologies to dampen exhaust noise.
Performance Versus Noise reduction
With mufflers, there is always a trade-off: the more you dampen sound, the more you impact engine performance. While a reactive-style muffler typically excels at dampening sound, it creates a lot of back pressure for the engine, causing a reduction in performance. For most drivers, a quiet, refined ride is well worth a slight reduction in engine power. The lower cost of a reactive-style muffler is appealing, too.
In contrast, an absorptive muffler is all about performance and a distinctive sound. You'll hear a rumble with an absorptive muffler, but if you enjoy a more aggressive ride, then this is muffler you should choose. It may cost you a bit more, and you may have to deal with a noise violation or two, but the performance is worth it.
If you want the best of both worlds, and you're willing to pay a little more, a cutting-edge combination muffler may be your best choice.
We Can Help!
At Marigold Service, we'll help you choose the right muffler, and we'll install it with precision. For more information, contact us.